November 8, 2016 - Kasper Baatrup, finans.dk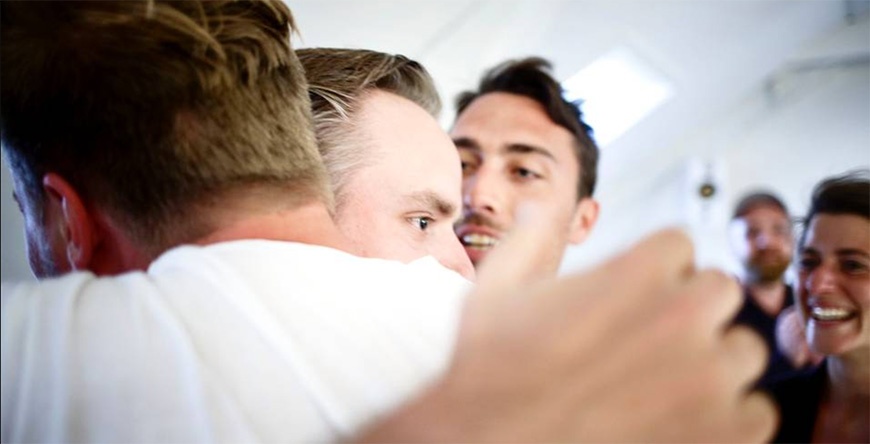 According to specialists, the ideas with the biggest chance of turning into a successful product aret he ones that can be explained the easiest.
WakeupData is a two year old company that does something with data. More specifically, they offer companies a cloud-based solution that integrates different data sources and adapts them to otherwise incompatible marketing platforms.
They work with formats such as XML and CSV and connect management features such as advanced field transformations, auto filtration and format adaptation. The only thing is that most business managers can't be bothered to familiarise themselves with these terms. So when WakeupData's founder and co-owner, Allan Jørgensen, visits new boardrooms, he makes do with saying that he has a product that can save your company both time and money.
"What we do is a bit technical. But the output isn't. Better profit performance and higher flexibility – that's something even the business manager gets," he says.
And exactly this ability to cut out excessive technicalities from your presentation might prove to be crucial if you want to survive in an industry that doesn't exactly suffer from a lack of good ideas. This is the general attitude in the Danish Entrepreneur Association:
"Many entrepreneurs have a poor grasp of the art of simplification. They think they need to explain every last detail in what they're offering. But you don't have to,"
says chairman Christian Walther Øyrabø.
WakeupData has (in short!) developed a digital marketing system that among other things makes it easier for small to middle-sized companies to advertise on Google and Facebook.
"We'd like to contribute to changing that – so it's not only the huge conglomerates that end up devouring the minor players, but that the minor players are actually also able to stand up to them," Allan Jørgensen explains.
The company works with the concept simplexity – that is, making complicated systems readily accessible for users. Many companies do. But just as many stagnate because their creators haven't learned to get their message across in a short and precise way. And working in a complex subject area is no excuse:
"It is the responsibility of each and every entrepreneur to build a company and deliver a product and a message that is readily understandable for the outside world. And if they can't do that, then the company will die. That's the way it is. Also, not everyone should necessarily survive,"
says Christian Walther Øyrabø.
It is no secret that entrepreneurs need money to realise their ideas. If the idea goes all the way, usually it has been through at least four investment stages before it goes public. The first investments will be found among the three f's – friends, family and fools. When the stakes are increased, incubators and business angels enter the picture followed by venture capital firms.
Jesper Jarlbæk is chairman of Danish Business Angels (DANBAN). During preliminary presentation rounds, he and other business angels in the association are ready to do investments ranging between half and five million kroner – provided that the idea can go the distance."Of course, there has to be room for more complicated presentations, but it's clear that if you start a pitch about noise on digital and analogue circuits with 20 pages of information, you'll have a harder time finding investors than others," he says.
Furthermore, he explains that there is a lack of risk capital. And investors tend to quickly move away from entrepreneurs who struggle with outlining the purpose of their own idea. With clients such as Silvan, Kaufmann and Hummel, WakeupData does not seem to fit in that category. They already embarked on a journey upwards through the investment stages. Striving for an international breakthrough, they are now searching for 7-9 million Danish kroner. Friends, family and fools do not suffice any longer – and that means that the presentation needs to hit the mark.
Allan Jørgensen is optimistic for several reasons. Partly because companies in Sweden and the Netherlands have already shown interest. Partly because the clientele grows, and the company is self-financing. But mainly because the basic code base of the digital cloud system has been developed over the course of the last four years. Already 10 months into the commercial life of the company, it has succeeded in signing an agreement with one of the world's leading performance agencies – iProspect.

"That simply goes to show how complex the solution – everything that's underlying – is, but how simple it has become to present it," he tells.
A connection which may prove to be essential to raise the necessary capital.
"What's really important is whether or not you trust that the people who present the idea can realise it. And that's basically the name of the game – whether the team behind the presentation seems convincing. And that brings us back to communication. The idea and the business model that makes sure that you make money on the idea have to be connected," says Jesper Jarlbæk.
---