Denmark Ecommerce 2020 - Consumer Statistics and Channel Recommendations
Written by Ben Culpin, Posted on July 3, 2018
(Last Updated: May 07, 2020)
Denmark has a population of around 5.6 million, with an estimated 97% having access to the internet.
Danish consumers spent 146 billion DKK online in 2019, breaking the previous record set in 2018 with a 13% increase (source: FDIH).
Over two thirds of these regularly use the internet for shopping, meaning there is a large and dedicated audience ready to purchase your products online.
The results from 2019 show us that the European eCommerce industry is continuing to thrive, with the statistics showing growth to €621 billion by the end of the year (source).
In fact, a number of categories in the report show that Denmark is leading eCommerce growth in categories like Ease of Doing Business Index, highest spending per online shopper and internet penetration index.
What is driving Denmark's
e-commerce growth?
Source: Statista

Similar to our e-commerce guide to Sweden, the results from Denmark show this is already a mature e-commerce nation with regular online shopping habits.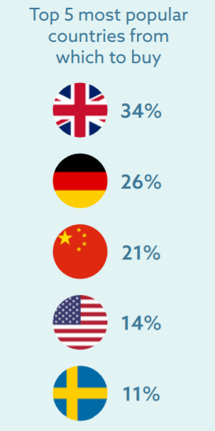 Two-thirds of Danes shop online each month, with only Norwegians spending more per capita (source). As with the other Nordic nations, clothing and footwear ("fashion") are the most popular categories, whilst electronics and media products are also ranked highly.
Denmark has the highest penetration of smartphones in the world - with 77% of the population using a smartphone (source). This is reflected in the e-commerce industry, with one in four online purchases in Denmark made using a cell phone.
As the graphic below shows (source), consumers consider clarity and navigability of the shopping process to be of paramount importance, but developing attractive and well-designed mobile experiences to attract new customers should also be a priority for attracting a Danish audience.
Consumer behaviour in Denmark


In contrast to Norway, where we saw fairly low expectations when it came to delivery of goods, the Danes have some of the highest demands.
One in ten expects to receive their goods on the following business day, and three in ten, after two business days (source). This is perhaps because Denmark is a small and relatively navigable country geographically (in comparison to its mountainous Nordic neighbours!) leading to clear expectations among consumers concerning rapid service.
Therefore, a prompt internal service to ensure rapid dispatch of goods and a clear returns policy is vital to impressing a Danish audience and ensuring repeat customers.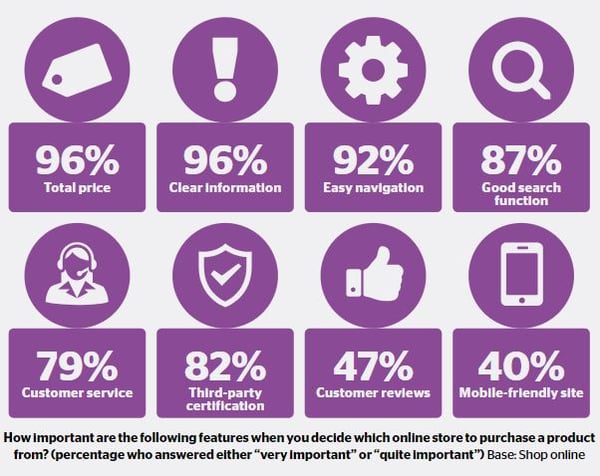 To succeed in the ecommerce market in Denmark, you need to have as attractive a price as possible.

The shopping experience must also be convenient, informative and give the consumer full insight into the deliver process.
Carsten Dalbo Pedersen, Head of E-commerce & logistics,
Postnord in Denmark (source).
Shopping channels in Denmark- which to use?
The growth of current shopping trends are forcing merchants to diversify their ecommerce strategy and to explore channels where people are actively searching for a product, wanting to seek the best possible deal through comparison.
FDIH's analysis delves into where and what consumers do. Clothes, shoes and accessories are still the most purchased product category, with Zalando topping the list for the second year running as the most popular ecommerce site in Denmark:
The channel you select is dependent upon what products you are selling. The list we have compiled offers a shortlist of some options for sellers wishing to break into a Danish market specifically.
Zalando

Zalando are a German ecommerce company based in Berlin, and specializing in offering fashion and lifestyle choices to consumers.
They boast 300 million visits per month, 29 million consumers, 450 thousand product choices and a precense across 17 European markets (source).
To get started with selling on Zalando, the onboarding process requires several validation steps, both manual and automatic. When you contact Zalando to sell your products, an account manager will check that your products are eligible for the marketplace.
They will then provide you with a "MasterData" file containing, among other things, the type of products you are authorized to sell on the platform, as well as the product information expected by Zalando
You can get more info on the Zalando product feed specifications here.
PriceRunner
PriceRunner
are a leading shopping comparison site in Sweden, Denmark, France and Germany.
Products can be listed on Pricerunner under two types of categories: price comparison categories and shopping categories. Each category has its own characteristics.
Requirements for Merchants:
Merchants need to have at least 200 products in their inventory;

The products listed must all be in new condition;

It is recommended that you advertise more than 80% of your inventory on Pricerunner;

All the product feeds on our site are updated on Pricerunner between midnight and 4am each night.
You can check their product feed specifications plus all the recommendations here.
Related: Get more info on our PriceRunner Integration here.
Coolshop

Coolshop is the first Scandinavian Marketplace stretching into seven countries - Denmark, Norway, Sweden, Finland, Germany, Netherlands and United Kingdom.
An online retailer primarily selling video games and consoles at source, Coolshop has begun rapidly expanding its retail categories in recent years - seeking out new opportunities and leading technological development.
Their feed requirements include EAN code, brand, Primary Color and Size - click here to find out more.
Related: Get more info on our CoolShop Integration here.

Partner Ads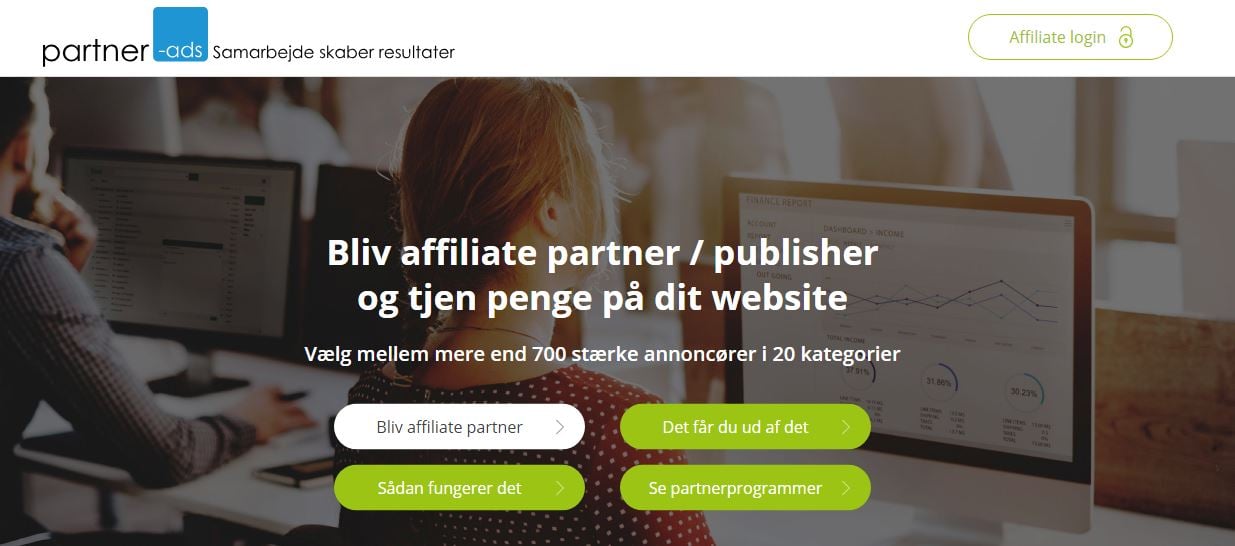 Partner ads is a Danish affiliate network active since 2002. They have over 2000 affiliate partners in their focus markets across Denmark, Sweden and Norway.
Merchants can start adversting on Partner ads by uploading their product feeds to Partner-ads in a XML format, you can find out their feed specifications here.
Related: Get more info on our Partner Ads Integration here.
Reaching out to your Danish audience
As the statistics mentioned above show us, there is a rapidly growing number of Danish consumers who are shopping online regularly.
Take the time to select which channel might be right for you. Check out their product categories to see if they support your products categories and consider carrying out a trial campaign to see if you get results.
Looking to expand your reach in Europe?
Check out our guides to selling in the Netherlands, Sweden, Germany, Finland and Norway or check out our eCommerce Guide to Selling in the Nordics below 👇