The final post in our Amazon series looks at the potential pitfalls that unwary users can come across when running an online shopping campaign through Amazon.
We look at how you can be aware of these errors and how you can easily avoid them.
1.Images are not optimized for Amazon
If you are using multi-channel selling or have only recently considered Amazon as a potential selling channel then take note as it is easy to slip up here. All channels have their own strict guidelines regarding product image sizes and requirements which can vary greatly from each other.
In this case, Amazon requirements specify a dpi (dots per inch) of at least 1000 and a pure white background as well as multiple rules regarding licensing, framing, lighting, watermarks and branding.

The solution? Make sure you read through all Amazon image requirements before you receive quality warnings on your Amazon product listings and face having product listings removed from your Amazon campaign.
2
. Including out-of-stock products
Webshop owners will already understand the importance of keeping track of your stock levels.

However, mistakes can happen if operating a multichannel strategy or selling on Amazon for the first time, as it can be easy to lose track of which products have sold where, meaning that your potential customers on Amazon are shown out-of-stock products, thereby meaning you lose the sale and waste your budget.
The solution? There are two possible solutions here. You can either spend hours sorting through your feed, manually updating stock levels for your Amazon feed.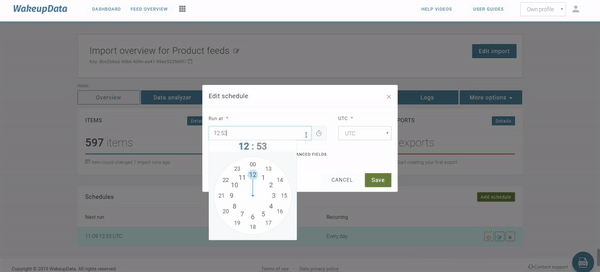 If this doesn't sound like your cup of tea, WakeupData can schedule automatic daily (or even more frequent) updates to your Amazon feed via our platform, NEO, so you will never have to face the risk of losing customers through out-of-stock products. See how to do it here:
3. Titles are too long


Amongst Amazon's copious requirements they specify that titles "must not exceed a maximum of 200 characters (including spaces) in all categories." To make things a little more confusing, some categories will have a different maximum title length on Amazon, so check out the style guide provided for the specific category in which you're selling.
The solution? Read through the Amazon guidelines for your feed and then work on fitting your titles to their demands. Using WakeupData will take away the stress, letting you optimize and edit your Amazon titles to speed through this process with ease!
4. Product descriptions


Amazon has strict rules on what can and cannot be included in product descriptions. This means you need to take the time to correctly format descriptions before export takes place.
The solution? Avoid getting delayed by having certain product listings rejected due to their descriptions by getting clued up on what can and cannot be included and using NEO to easily edit. Check out our previous blogpost to get further insight into tailoring your product descriptions to the right audience and complying to Amazon's requirements.
5. Missing product categorization
Product categorization for your listings is really important for everyone involved in the e-commerce transaction:

1. You, the online retailer
2. Amazon
3. Your customers
If the categorization column in your feed is left blank or doesn't follow Amazon's specifications, they'll probably reject your entire feed - which isn't exactly ideal!
Your products should be organized correctly by following Amazon's taxonomy and should also be as specific as possible.
Example:
If you are selling a raincoat on Amazon, instead of the categories:
"Apparel & Accessories > Clothing"

you could instead use:
"Apparel & Accessories > Clothing > Outerwear > Coats & Jackets,"
to include as many relevant sub-categories that Amazon provides.
See how you can set up categorization here:
The complete solution
As you can see from the evidence above, tailoring your feed to meet the requirements of Amazon can be tricky, and there are plenty of hazards to trip you up if you don't have the knowledge or support.
That is why at WakeupData we offer an easy, user-friendly platform, pre-made templates tailored to each channel and features like our expression engine and scheduling to ensure your Amazon feed is always optimized and performing at its very best.
Want to find out more about Selling on Amazon? Check out our FREE e-book 'Selling on Amazon 101' which runs you through the basics of how to sell effectively on Amazon:
---