Google recently announced a plan to help global retailers take on Amazon – meanwhile giving Google a cut of their sales in the process.
The concept will allow retailers to get their products listed across several different Google manifestations: in its Google Express shopping service, on the Google Assistant app for smartphones, as well as on smart speakers, like the Google Home.
Google Home - (credit: The Verge)
The program, which has already started being implemented, offers online shoppers a universal cart whether they're shopping on mobile, tablet, desktop or via a voice-powered device like Google Home.

This use of voice-powered devices is of particular relevance as Amazon has already tied voice shopping to its Echo devices, and has so far claimed the majority of market share in smart speakers.
So far Google are rolling out the project only in the US, working with major firms like Target, Walmart, Ulta Beauty, Costco, and Home Depot. Some of these were detailed in the company's official announcement of Shopping Actions.
Walmart and Target were both already partnered with Google on voice-based shopping, which includes integrations with Google Express and Google Assistant. This allows customers to shop their site through the Google Express app or by placing voice orders with Google Assistant's help.
Shopping Actions is aimed to allow retailers to increase shopper loyalty by supporting things like 1-click re-ordering, personalized recommendations, and basket-building. Customers can integrate wishlists or loyalty accounts from these providers like Ulta, Costco, etc, allowing Google to know what other products to recommend based on their past order history when that shopper is searching for a specific item.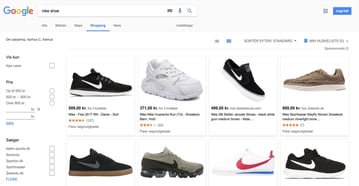 Google says it will use a pay-per-sale model, which means they will only take a portion of the sale when a shopper makes a purchase. That's different from Google's current pay-per-click ads, where businesses pay when a web searcher engages with an ad by visiting the website or calling the business.
According to Google, retail partners saw the average size of a customer's shopping basket increase by 30 percent after joining this program, and Ulta saw average order values increase 35 percent. Target, which has been live for 6 months, says its Google Express shopping baskets increased nearly 20 percent, on average.
Want to Sell on Google Shopping? Get connected with WakeupData's product feed management platform today to import you product listings, optimize for the higher quality data and import to the channels of your choice using our pre-built templates.

---