The title which you choose to give products is one of the most important factors in ensuring a good performance and the highest possible conversions in your shopping campaigns.
After selecting an expressive, high-quality image, the title is what shopping channels like Google places directly beneath, so it must be eye-catching, descriptive and enticing to the shopper.
This blog will seek to outline how you can give the best possible product titles to your products in order to see the best possible ROI.
First normalize your title, then expand to include your customers' language
Following the guidelines and restrictions of individual shopping channels and ensuring that your feed is optimized to stand out is, of course, crucial to any ad campaign.
One of the first stages in creating a good product feed is to provide a keyword-rich, normalized set of titles which will help to optimize your product feeds.
Place important information first
Your title might get shortened, so you need to pay attention that your titles don't exceed the character length allowed: 150 characters, but in most cases only 70 characters will be shown.
Follow the requirements for product titles
Channels like Google have very strict rules regarding what your product feeds should contain to comply with their algorithm. If you don't comply, you run the risk of having your campaigns suspended because your titles don't meet their requirements.
As an example, if you add too many capitals and exclamation marks to your title, the algorithm won't approve your products.
As you will see, this is by no means an exact science, but when in doubt always refer to Google's product data specifications, or to the relevant specifications for your chosen channel.
What next?
Now you've got the basics right, you can move on to more advanced optimization steps like including the right search phrases in the right product titles by overwriting select normalized titles.
Take a look at your account's Search Query Report for the most popular keywords related to your products. Now select words or phrases which are contained in search queries, but not in your own product feed. Those who match these most popular terms with relevant products see a significant increase in their click-through rates (CTR).
In cases where you may have a relatively short product title, consider expanding by adding a search term alongside the usual specifications for your product (see example below).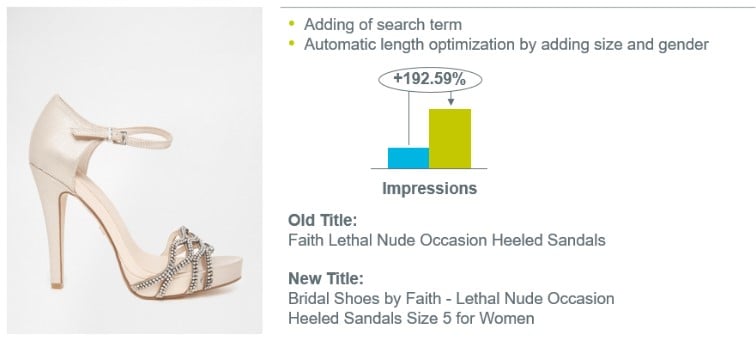 In a study by Crealytics, it was found that adding several more keywords to the search term dramatically increased the number of impressions.


Keyword Importance
Now that you are creating 'keyword-rich titles', filled with terms that will increase CTR, there is another factor to bear in mind. When formatting the structure of product titles, a recommended step is to prioritize by search importance from left to right.
Let's take Google Shopping as our example. Their algorithm classifies words used in your product title as more relevant depending on how far to the left they are. In other words, the first keywords you choose to use in your product title will be given more weight than the others (see example below).
This example shows that the products which rank highest all give the brand name first, followed by further details – even if they do not exactly meet the search query word-for-word.
Here we provide some of the most important factors to consider when seeking to optimize your product titles:


1. Include as much info which will describe your product. This includes: brand name, item size, item color, gender, retailer, type and specific product descriptors (such as thermal, waterproof or breathable for jackets).

N.B Even expanding the title with seemingly irrelevant factors like the type of fabric can help narrow down a search and give you the vital edge against a competitor who included less information in the title of a competing product.
2. Look through Product Listing Ad top queries for products related to yours and try to include these keyword-rich terms in your title.


3. As mentioned above, ensure that the most important words in your title are included at the beginning. As a rule of thumb, "Brand + Gender + Product Type + Attributes (e.g. Color, Size, Material).
4. Spelling and Grammar – It might sound obvious, but you would be surprised by the amount of Google and Amazon product titles which are riddled with errors! Ensure you maintain a professional image and appear in all your intended searches by checking (and double-checking!) all product titles.
So, to summarise what we've learnt, titles are not only important for search engines, they're just as important in finding your target audience. An optimized title can influence which products appear in which query, as well as increasing conversions by displaying your ads most likely to relate to the customer's needs.
At WakeupData we have been able to help hundreds of organizations get up-and-running through our Marketing Suite which offers exporting optimized feeds to multiple channels that give the best possible conversions.
Check out the other blogs in this series, looking at how you can optimize product descriptions and images to give you the best possible results. Find out more about optimizing your feeds by downloading our free checklist for product feeds.

---