We have launched a series of interviews with our team members, to give you a better picture of the (awesome) people working at WakeupData!
This week we are joined by one of our newest recruits - Lora Lyubenova, who is our Customer Success Manager.
Hi Lora!
Could you introduce yourself and let us know what it is you do at WakeupData?
I started at WakeupData as a Data Integration intern first, which was a good way to get to know the industry and the product and to learn the technical aspect of building integrations and optimizing product feeds. Recently, I started working in Customer Success, where my overall responsibility is to help customers with strategic planning, advise them on best practices and inform them about new products and features. Along with that I am also responsible for the support and implementation of product feeds and building integrations.

During my time here I have learned a lot and I am ready to
take on new and exciting challenges.
Can you tell us something about your background?
I come originally from Bulgaria, from the largest city on the Bulgarian Black Sea Coast - Varna. I've been in Denmark since 2011. Here I got a BA in Marketing and Management Communication, followed by an MA in Corporate Communication. I've had a couple of student jobs and internships, but this job at WakeupData is my firsts full-time job since graduation.
What is your favourite part of the job (aside from the fantastic colleagues of course)?
I like that I can consult customers and thereby empower them to skyrocket sales with minimum costs - and when customers are happy, that makes us happy too. Customer Success is a lot about nurturing relationships and good communication, which I value a lot. I also very much enjoy the technical side of my job - working with the platform and ensuring everything runs smoothly.
More generally, I like that we are a small team of tech lovers with an extremely casual culture, but at the same time we all have well distributed tasks and responsibilities. There is a short path from idea to execution and you see the impact from your work almost instantly.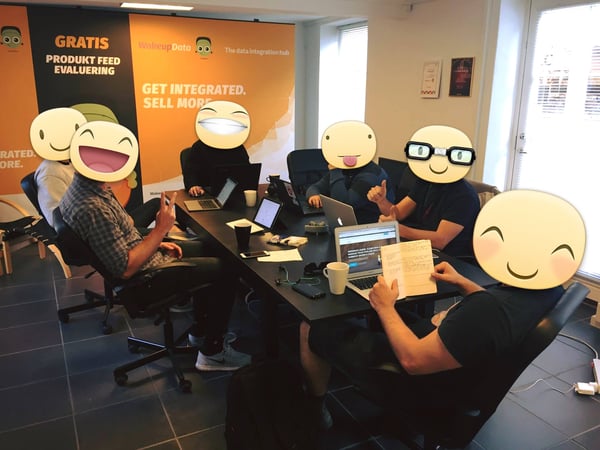 And of course the social aspect - we are a very informal team with 7 different nationalities and we have a lot of fun not only at work, but also outside.
Outside of producing high-quality, optimised datafeeds (obviously!) what are your interests or hobbies?
I am a social person and I very much enjoy meeting new people and volunteering for different causes and events in Aarhus. My perfect weekend includes going out for a drink with friends or playing board games. I also love traveling and exploring new cultures.
I recently rediscovered reading books (I've never really been much of a reader) and right now I'm interested in books about decision-making and behavioral economics. I'm also interested in the advantages and downsides of the rapid technological development and how it can affect human life in the future - so a Black mirror fan :D
And finally...favourite superhero?
Wonderwoman - I'm not a radical feminist, but I admire her empowering female character and the fact that she leaves her comfort zone and everything she grew up with to help others and to do what is right.
Thanks Lora!
You can read more of our staff interviews, keep up with the latest WakeupData feature updates and news by signing up to our mailing list, or check out our client stories and resources here.
---