Product Update - Platform Log
by Ben Culpin, on Oct 13, 2019 9:54:00 AM
We're happy to present you with the latest update in a long line of improvements to the WakeupData platform. These changes bring not only new visual changes but time-saving, simplifying alterations that are focused on saving our user's time.
Platform log
First up, we're happy to announce the Platform log. This is a list, accessible to all users, which allows anyone to get an insight into recent and upcoming changes to the platform.
This is in keeping with our goals for absolute transparency and openness in the work we do.

It gives regular users an insight into what changes may be affecting the setup they are familiar with, following up on alterations they should be aware of and what features have introduced to make their day-to-day usage of our Feed Marketing platform easier!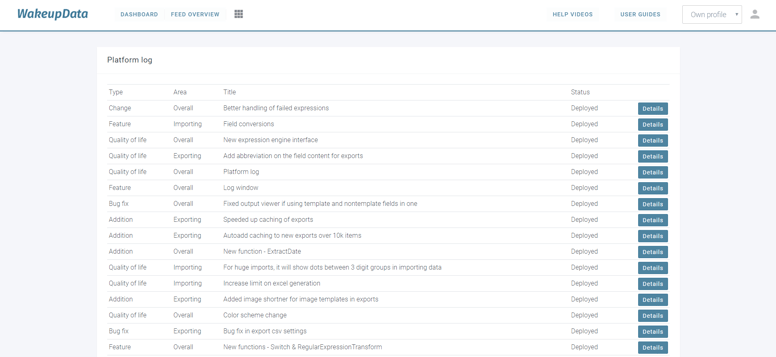 From the platform log, viewers can easily find out where the change has taken place, where it is in the pipeline and the type of change that has taken place (e.g. Quality of life, Feature, Bug Fix, Addition).
By clicking 'details', users can also get an idea of the platform change in more detail (see video below).
This might range from a simple explanation of a bug fix to a detailed introduction of an entirely new feature (e.g. log window).
As always, please reach out to us with any questions you might have about the Platform Log or other recent changes such as Field Conversions - a huge time-saving feature which let's you add extra fields to each import.
You can get a rundown of the changes to WakeupData's Feed Marketing tool here or head over to the platform (below) to see it for yourself!