Product Updates Feb 2020 | Automapping your data
by Ben Culpin, on February 5, 2020
February has seen the launch of a range of product updates.
In keeping with our goals for 2020, these are focused on empowering our platform users, by giving them the tools and functionality to become data-driven experts.
Many of these are designed to save time by automating manual processes, whilst others allow for better access to in-platform monitoring and support.

Check out our roundup of the updates below:
1. Automapping feature
When you import a data feed to the WakeupData platform it has to be 'mapped' in order to ensure that the fields from your online store match those in our platform.
Automapping removes friction of having to manually map each field and dramatically speeds up the import of your data. The product data will be automatically mapped in open fields and ready in a matter of minutes.
There are cases where users will want to manually map their data, so you will still have the option to map field yourself, as well as edit fields after auto-mapping has taken place.
Here is a short video of how it works in practice:


---
2. User accounts feature
User accounts allow an admin to give separate access to different customer accounts.
Stated simply, you can now give a colleague or customer access to a specific account, whilst you maintain a complete overview of your entire WakeupData account.
Here is a short video on how it works in practice:


---
3. In-platform chat 💬
Now it is even easier to have a chat with us! Find the chat button on the bottom right corner of your screen.
This can be used any time you need support, from general inquiries to specific technical issues.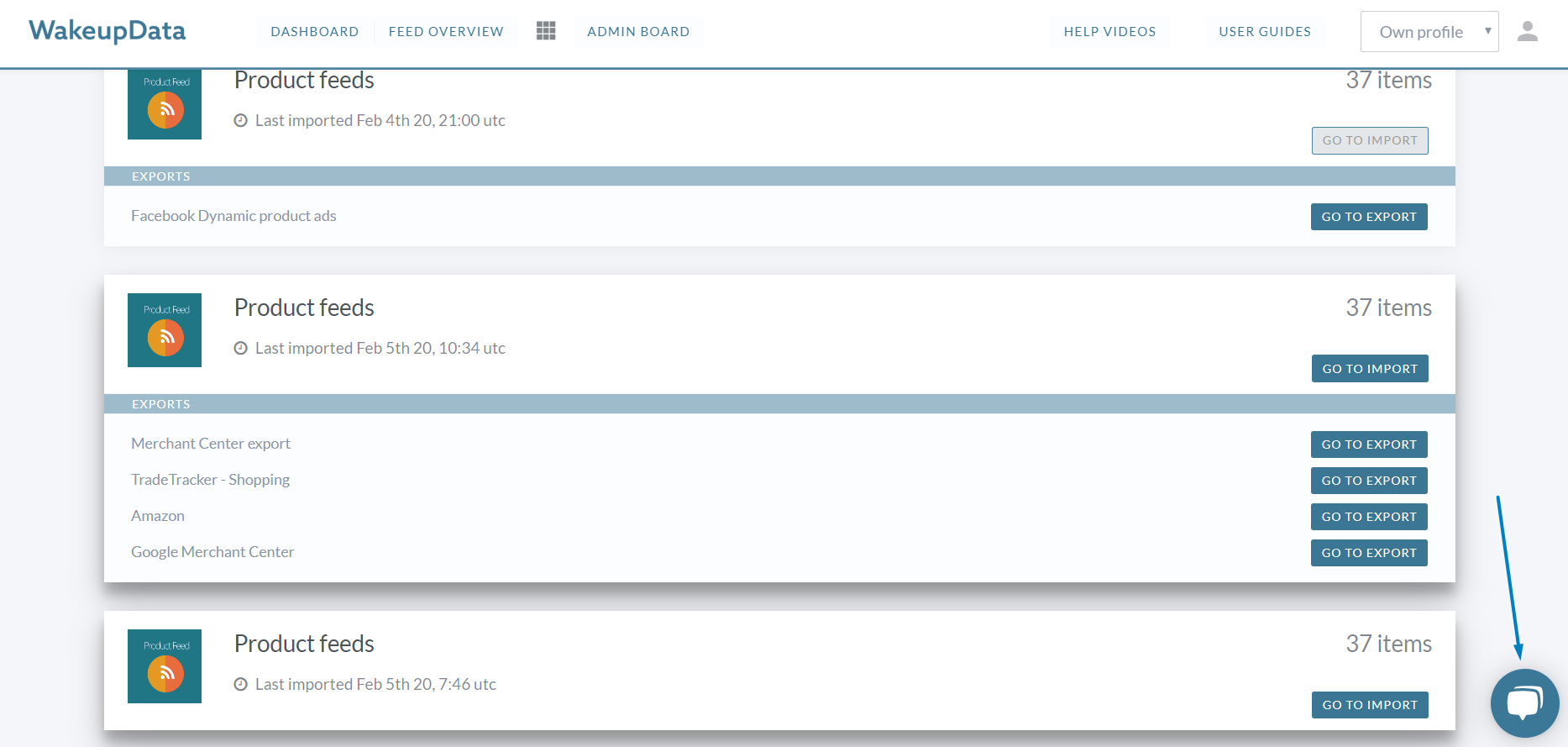 ---
4. Incremental loads (also known as delta loads/log changes)
Updating your product data as often as possible is really valuable to digital marketers running ecommerce campaigns but often comes with technical challenges that can be both time-consuming and expensive.
Therefore, we have now made it possible to update some of your product feed attributes without needing to generate the whole feed from scratch - you update only what is important and when is important.
Make sense? Let's take an example:
New price changes from the purchasing department can be updated through these incremental loads (updating only the pricing attribute of your feed).
This means that the rest of the product feed remains intact, increasing the speed and cutting down on overall costs of running.

Still doesn't make sense? You can chat to us and one of our Customer Success team will be happy to walk you through the whole process.
5. Wakeupdata logs
With Wakeupdata logs you can have an overview of the last changes done in a specific project. You will be able to see information such as:
The user who made the change
The timestamp
The attributes affected by change.
We've added more than 40 points of logging and user activity to capture the activity within an account.



You can get a bit more information about the logs feature in our previous article. Here is a short video on how it works in practice:
---
If you want to find out more about the changes to the Feed Marketing platform, you can reach out to one of our Customer Success Managers to book a chat with them about specific queries.
Alternatively, feel free to check out our Platform User Guide which takes you through the main features of our feed marketing platform, and how it can bring benefits to your business.