Product Updates - The latest changes to the WakeupData platform
Written by Ben Culpin, Posted on October 21, 2019
(Last Updated: October 21, 2019)
The past few weeks have seen a range of new features and alterations to the WakeupData platform.
Each of these has been focused on improving the overall experience, through usability, platform understanding and time-saving adjustments.
In this short article, we'll take a quick look through the major changes which have been introduced.
1. Expression Engine updates


For those unfamiliar with the Expression Engine, this is a feature within the WakeupData interface which allows users to carry out a range of functions in order to enrich or alter your data, using Excel-style formulas to change different fields within a product feed in order to improve the overall quality or functionality.
As always, it's definitely easier to illustrate expressions by giving real examples. There are over 100 functions so it's probably best if we look at a simple one:
Aim: To create a nice-looking product title.
Process: To combines four fields into a title with a dash between each part
Inputted data:
Field1 = Title (Value = Vannucci Suit)

Field2 = Color (Value = Grey)

Field3 = Size (Value = 46)

Field4 = Style (Value = Slim fit)
Outputted data: Vannucci Suit - Grey - Slim fit - Size: 46
Required expression: field1 + " - " + field2 + " - " + field4 +" - Size: " + field3
The Expression Engine now contains:
A full-screen display for all users

- To give a complete overview of expressions.
A notes section to add annotations to specific expressions

Color coded expressions

- Giving an immediate visual link for long expressions.

Immediate display of results

- Letting you see the results of tests of product fields.

Example list of everyday use cases

- Giving inspiration for how to get the best results.
Many more changes to overall usability
To get the full list of these updates - read our detailed Expression Engine Product Updates article here.
2. Rules Engines Update
Similarly to the Expression Engine, the new Rules Engine interface now displays a full screen to platform users (see screenshot below).
Get an idea of what the Rules Engine can be used for here.
At the moment, the same functionality you may be used to from the Rules Engine still applies, but keep you eyes out for future changes planned in the pipeline.

3. New feature: Field Conversions
A significant change to the WakeupData platform comes in the form of an entirely new addition to the import stage: Field Conversions (screenshot below).
These now allow the user to make alterations to their feed prior to exporting the data, using straightforward expressions to make changes.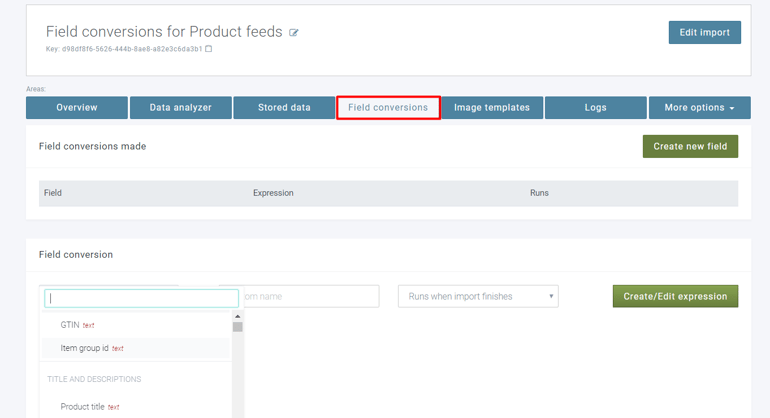 What does it do? Field Conversions lets you create new data fields or clean up data fields from the data already imported.
What's the advantage of this? Instead of making changes to every single export for every sales and marketing channel, you can make changes once here - saving hours of time.
Can you give an example? Yes! Perhaps the imported feed has a mistake in the product title:

Every title at the end says: 'Discount Week 36'

Rather than changing every export to correct the titles, a single expression in Field Conversions can create a separeate field with correctly formatted titles upon the next run of the import.
Of course, there are hundreds of examples where Field Conversions can be a time saver:
You could use it to filter GTINs of an incorrect length into a separate field which can then be adjusted.

Calculate discount price by creating a field which removes list price from sales price. This separate field then shows how much customers are saving.

Calculate sales margins and filter out all products with less than 10%. This separate field of higher margin products can then be used for specific promotion in certain exports.
To get a full overview, video and more use case examples, head over to our Product Update post on Field Conversions where we outline the product in more detail.
4. Platform log
This is a list, accessible to all users, which allows anyone to get an insight into recent and upcoming changes to the platform.
Accessed via the user icon in the top right corner, by clicking 'details', all users can now get an idea of the platform changes in more detail (see video below).
This might range from a simple explanation of a bug fix to a detailed introduction of an entirely new feature (e.g. Field Conversions).
We will write changes done to the platform here, so you have one place to monitor all the changes happening.
Check out our guide to the new Platform Log here for more details.
5. Log window
This feature records changes done to the import and export - with more additions in the pipeline of further events it will make a record of.
By clicking the 'log' button in the bottom right of the screen, you can see the latest events.
If you are on an export, you see the changes for that import and that specific export, while under imports, you will see every change.
As well as this, you can also write notes related to that specific import or export (see video below).
6. Change log
Under import overview, you can also access logs, which allows you to search through the logs to find specific changes.
This section first tab looks like the below image and gives access to a series of log services like:
A visual overview of the integration.
Log of changes done to the import and exports and by whom.
Log of problems recorded by the platform in regards to the the import and exports over the last 3 days.
Get a detailed insight into the functions and use of Change Log here.
7. Changes to overall design and colour scheme
We have also updated the colour scheme on the platform, alongside a complete restructuring of navigational elements to ensure a more smooth user experience.
All these changes mentioned above have all been implemented with the goal of giving greater control, understanding and flexibility while saving users' time.
We will be providing further details on these, and forthcoming changes, in the form of explainer videos, platform support and webinars over the coming weeks.
To try out the new interface, features and product updates for yourself, you can head over to the platform and try it out. Otherwise, feel free to book a meeting with one of our Customer Success Team who can get you up to speed on the updates and what they could mean for you.