Selling on Shopify - how you can easily get connected
by Ben Culpin, on May 14, 2018 11:00:00 AM
Shopify is an online store builder, providing an easy-to-use shopping cart for all its customers, no matter their levels of experience. There are well over 250,000 stores using Shopify to sell online. This blog post will look at how you can get connected wand start selling on multiple channels.

When explaining exactly what Shopify is, one of the best analogies is to compare it to real estate. Creating an account with Shopify is like hiring a general contractor to build your house, you're still in control of your product data feeds, but you let them use their expertise to make the project happen effectively.
WakeupData offers product data feed management which enables merchants on Shopify to optimize their product data feed for a wide range of channels.
You can create daily exports of your product data from your Shopify online store, direct to all your chosen channels, and schedule everything with our simple and user-friendly platform which lets you manage everything in one place.
Why Shopify?
First and foremost, it is suitable for businesses of any size, as well as catering to a broad range of industries. Shopify is one of the easiest e-commerce builders out there, making the process straightforward and painless.
Both Shopify and WakeupData are ideal for business owners where available time is an important factor, offering simple, user-friendly interfaces which are easily navigable for all – no matter the level of user experience.
Furthermore, there is a wide spectrum of possibilities for your Shopify product data feed. If you sell a physical product, drop ship product, digital product or service (provided it's legal!) then you can sell on Shopify. For more details on this check out their sitemap and look under 'Ecommerce by industry'.
Comparing Shopify to other platforms
WakeupData NEO supports a number of different online stores through which you can create imports, including Smartweb and Ucommerce. The decision of who the integration is created with is entirely up to you, as all stores operating through the WakeupData platform will produce reliable, efficient and most importantly effective data.
To make an informed decision you can check out the "Comparisons" section on the Shopify sitemap page. They have testimonials from users who have moved to Shopify from 20 other platforms and services including BigCommerce, Magento, Amazon Webstore, and 3dCart.
Getting connected with Shopify
1. Set up an account for your webstore
Visit Shopify.com and sign up as an online store user (screenshot below). You'll have to answer a few basic questions but this literally takes just a few seconds.

If you already have a Shopify account jump straight to the final section of this blog - looking at how you can get your account connected to the WakeupData platform.
2. Provide your domain address
Now select a domain address for your webstore (screenshot below). This is used to specify the web resources, and IP addresses. You set it up by choosing the option on the Shopify admin panel. You can use:
Your own domain address
Basic domain for Shopify store
The service of the other domain providers
TIP – Remember that the domain address should highlight your main features and fit with your SEO, so your service is clear and straightforward.
3. Select a web store theme
Again this can take just a matter of seconds. You can customize your own theme if you are HTML/CSS and JavaScript proficient, or otherwise choose from a wide range of professional Shopify templates (below).
4. Upload your product feed to Shopify
WakeupData works with feeds so to get your webstore connected to the platform and selling across multiple channels you will first need a product feed. Via your Shopify account you click 'Add Products' and can choose to:
Add products manually (screenshot below) - entering the product name and description, images, type, vendor, features, etc. As you can imagine – this can take a long time if you have a lot of products!
Simply use the bulk upload option where you can import a CSV file.
If at any time your feeds are missing product information and specific criteria like EAN/GTIN numbers you can use WakeupData's state-of-the-art webcrawler. This extracts data from yours, or others, existing websites and can populate a feed by merging the fetched data.
Great, the main steps are done, the processes are understood and your products/goods/services are ready to be sold!
Now you might be wondering….
...Where does WakeupData come in?

Using Shopify together with WakeupData is an obvious combination. Shopify provides the online e-commerce solution to generate your product list, select website templates and track your inventory. Connecting to WakeupData then means you can import, optimize and export with ease to all your desired channels.
Both make selling online as easy as possible – there are no programs to download or maintain.
To get started simply load the WakeupData Shopify App and install our feed generator by pasting your Shopify URL address into the box shown below.
Once installation is done you will see your Shopify Authentication Key, type this into the relevant field in our interface, WakeupData NEO, and we will fetch all your product data for you, so you can set up a high-quality integration in minutes with minimal fuss.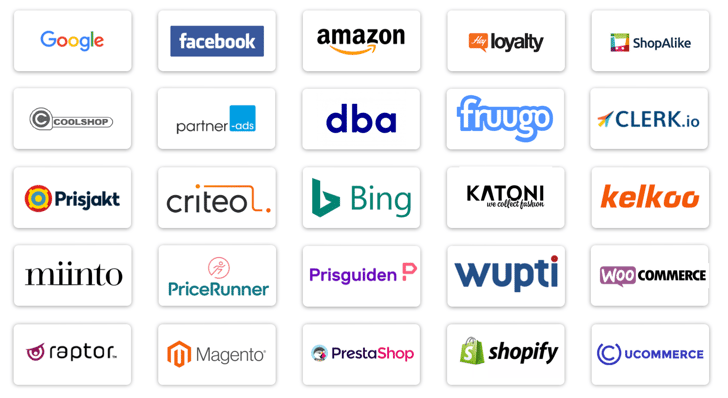 It is as simple as that. We give you world class product transformations, advanced feed validations, in-depth understanding of your data and a detailed monitoring service.
Contact WakeupData today and get your Shopify store connected to all your relevant channels.