Here at WakeupData we are honored to have been nominated for a FDIH award for the second year running - this time in the 'Best E-commerce Tool' category.
Last year's nomination saw WakeupData receive second place in the category 'Best e-commerce solution - web agency and other suppliers' for our work with Kaufmann.
After thorough consultation and deliberation, the nomination committee for the have found the top five nominees for the various categories of 2018's Danish E-Commerce Award.
On the 2nd of May all those companies who have been nominated will get the opportunity to present their cases to the decision panel. Afterwards, the panel will identify the top three in each category and this will be announced at the Danish E-Commerce Awards 2018 the 24th of May.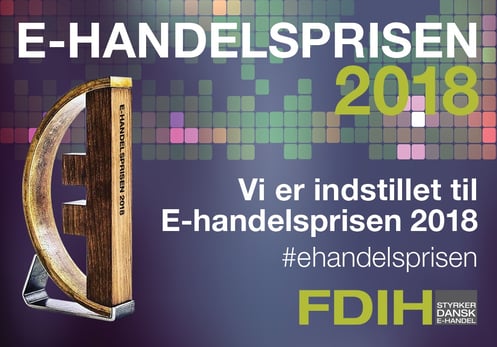 Use the hashtag '#ehandelsprisen' to stay up-to-date and follow the build-up to the event.
Here are the nominees. Last but not least on the list is WakeupData!
Best B2C-company with online revenue under 50 million DKK
barberklingen.dk
goodiebox.dk
luksusbaby.dk
rito.dk
washa.com
Best B2C-company with online revenue over 50 million DKK.
coolshop.dk
nemlig.com
sinful.dk
whiteaway.com
aarstiderne.com
Best B2B-company
bd.dk
danfoss.dk
dlg.dk
hoka.dk (Hørkram)
dealerextranet3.velux.dk
Best App
EasyPark
Freetrailer
GoMore
MobilePay
TooGoodToGo
Best omni-channel company
bd.dk
bog-ide.dk
elgiganten.dk
power.dk
sportmaster.dk
Best export-case
airtame.com
jysk.dk
sinful.dk
skatepro.dk
dealerextranet3.velux.dk
Best subscription solution
annoanno.dk
barberklingen.dk
goodiebox.dk
luxplus.dk
aarstiderne.com
Best e-commerce case - web agency and other supplier
esoft A/S and esoft connect (danbolig Clevr)
Impact and imerco.dk
Venue Manager and shop.agf.dk
Vertica and hoka.dk (Hørkram)
Vertica and molslinjen.dk
Best new e-commerce company
happyhelper.dk
pleo.io/da
testaviva.dk
toogoodtogo.dk
watery.dk
Best e-commerce tool
agillic.com
coolrunner.dk
raptorsmartadvisor.com
viabill.com
wakeupdata.com

---